Team Tresor by Car Collection, which competed with two Audi R8 LMS evo II cars in its home race at Hockenheim, had to swallow another bitter pill with a double retirement. The team lost both cars only in the closing minutes. Before that, the #12 Pro car had shown its potential with an excellent race, which they even led for long stretches. The sister car with the #11, which competed in the Silver Cup, had also already fought its way into the top 5 of the class at the time of the retirement.
After the season highlight – the 24h of Spa – the FANATEC GT World Challenge Europe season continued with the home race for Car Collection Motorsport at Hockenheim. While the driver crew of the #12 Pro car consisted of the two Audi Sport drivers Mattia Drudi and Christopher Haase as well as former Formula 2 driver Luca Ghiotto as usual, the team of the #11 Silver Cup was newly formed. Lorenzo Patrese and Hugo Valente were joined by Dutchman Thierry Vermeulen, who otherwise competes for Car Collection in the ADAC GT Masters and made his endurance debut at Hockenheim.
Already on Saturday evening, Luca Ghiotto clinched the first podium of the weekend with second place in the Esports race, which counts towards the GT World Challenge championship. In addition, there were four important championship points in the real classification. The #12 crew also impressed in qualifying despite extremely heavy traffic on the track and secured fourth place on the grid. The drivers of the sister car with the #11 had much more trouble finding a gap in the crush of 49 GT3 cars on the only 4.7 km short track and had to settle for 27th on the grid, which corresponded to eighth place in their class.
The start of the #12 was driven by Mattia Drudi, a driver who has already proven many times this year what he is able to achieve in the starting scrum. And the Italian lived up to his reputation and quickly moved up to second place. A short time later he was even in the lead and built up a small advantage, which his teammate Luca Ghiotto then successfully defended. When changing to final driver Christopher Haase lost the lead due to heavy traffic in the pit lane, but was subsequently in a safe second place. Then, shortly before the end of the race, the bad news: Haase reported a failed steering and had to park the Audi early in the pits.
Shortly before that, #11 had already been pulled out of the race. Hugo Valente was stranded in the gravel with his Audi R8 LMS evo II after a contact with a lapped car. Before that, however, Lorenzo Patrese and Thierry Vermeulen had fought their way through the field in remarkable way and were already within reach of the top 10 as well as in the top 5 of the class.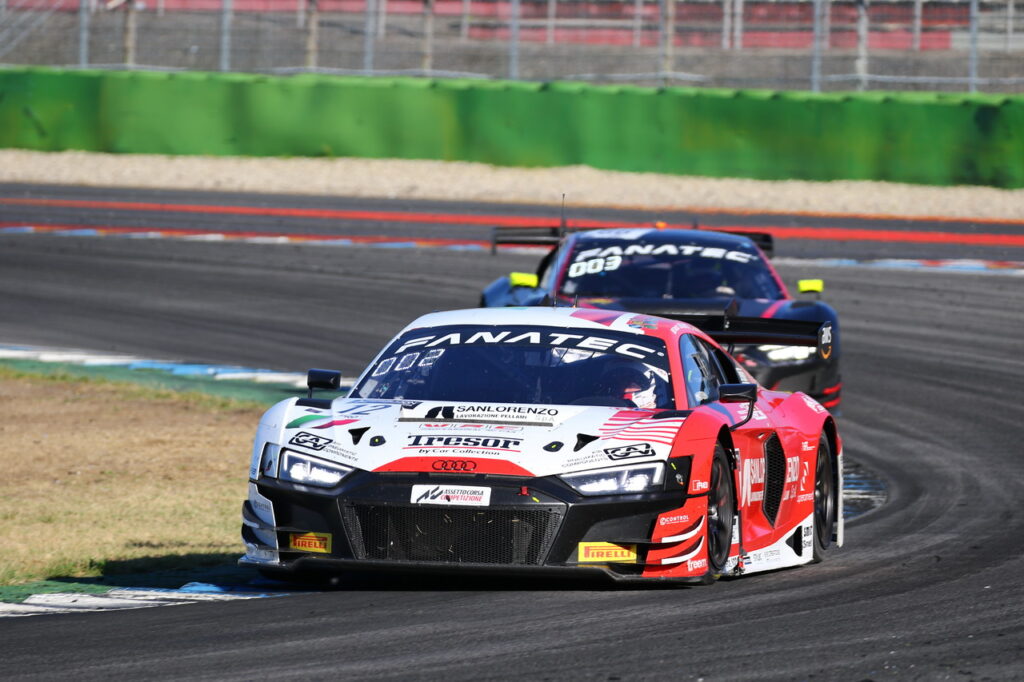 Credit: Christopher Otto