With a class win in the Pro-Am classification of the highest class SP9, Team Lionspeed by Car Collection was finally able to climb the highest podium again at the season highlight of the Nürburgring Endurance Series. The number 23 car with Leon Köhler, Florian Spengler, Simon Reicher and Jörg Viebahn claimed victory in the SP9 Pro-Am class after the two six-hour race sections and also finished in the top 10 overall.

The 12h race, held for the first time this year as part of the Nürburgring Endurance Series, marks the new season highlight of the popular championship on the Nürburgring Nordschleife. Team Lionspeed by Car Collection entered two cars in this new event. In the blue and red Audi R8 LMS evo II with the #23, Leon Köhler, Florian Spengler, Simon Reicher and Jörg Viebahn took turns at the wheel. In the white and red sister car with the #24, Patrick Kolb, Milan Dontje, Dennis Fetzer, Patric Niederhauser and Lorenzo Rocco alternated behind the wheel.

With qualifying results of 5 and 14, which corresponded to class positions 1 and 2, both crews laid the foundations for good results. The first half of the race, which was characterized by very changeable conditions typical of the Eifel, saw both cars hold their own in the top 10. It was not until the final lap of the six-hour session that the same fate befell both cars in the form of collisions. While the #23 was able to finish the session with a damaged rim, the #24 was hit much harder. The damage was so extensive that the car had to be repaired overnight despite Parc Ferme conditions, and the two-lap penalty imposed for this was accepted. Unfortunately, just before the restart on Sunday, the technicians discovered further technical damage to the car, which is why the #24 was only able to start the race with a significant delay and without any chance of a good result in the overall standings. However, giving up was never on the agenda. Afterwards, the drivers showed the potential of this car with extremely strong lap times. In the end, they even managed to finish third in the SP9 Pro-Am class.

In the case of the #23, the team management decided not to change the damaged rim before the restart in order to avoid the mentioned penalty. As a result, they had to come into the pits after just one lap to fix the mishap. This caused the team to fall back from a very good fifth place and they also had to relinquish the class lead. Subsequently, all four drivers delivered faultless stints, overtook the leading car in the SP9 Pro-Am class shortly before the end and were able to cross the finish line in eighth place overall after a total of 12 hours of racing, thus celebrating the class victory.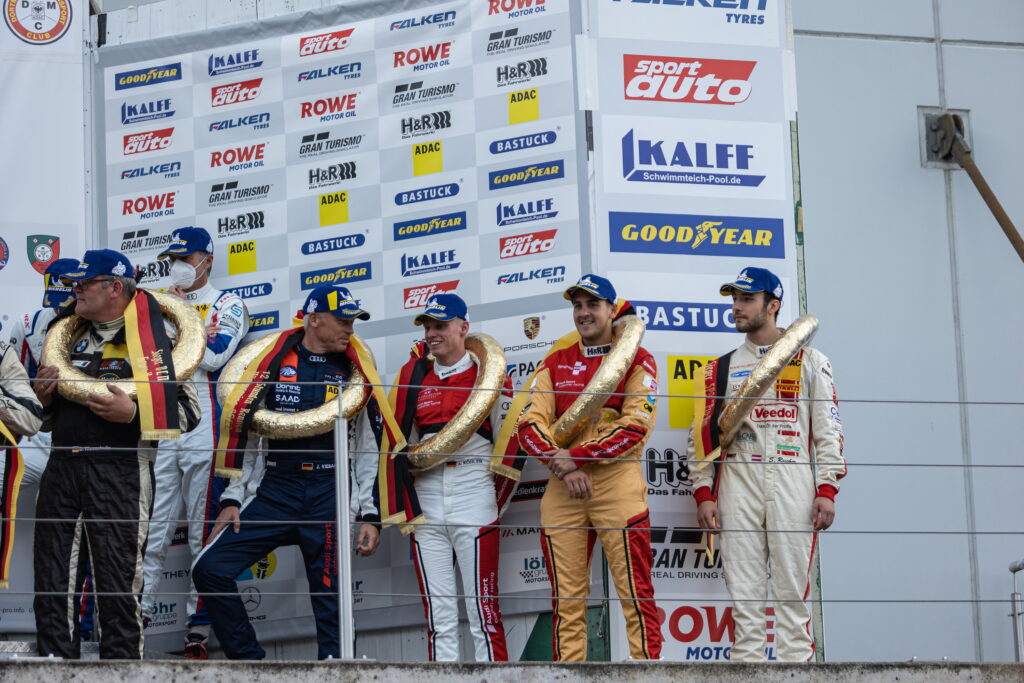 Credit: 1VIER